Baby Bulldogs
Yep, baby Bulldogs are real heartbreakers of the doggy world. Their wrinkly old chestnut like faces, pudgy tummies and bewildered expression all combine to make baby Bulldogs the crown princes of the adorable doggy world.
When it comes to dogs, all breeds can be considered cute and adorable. But there is one particular 'sub-breed' that just brings out all the 'squees' when it comes to the cute factor.
If you search for baby Bulldogs online, you will be greeted with over 14 million webpages. People love baby Bulldogs and so do we at The I Love Dogs Club.
These pages are devoted to all things baby Bulldog – some funny, some sad and some that will make you scratch your head in puzzlement. One thing is for sure, after spending some time browsing our collection of baby Bulldog pictures, videos and stories, your internal cute alarm will be ringing EXTREMELY loudly.
So Why Are Bulldog Puppies Simply The Best?
Well here are a few reasons why…
Because they are often a 'little' bit chubby
and wrinkly!
baby bulldogs like to do this when they sleep…
English Bulldog puppy sleeping and dreaming about doggy stuff…
they also do other cute stuff whilst sleeping
They know how to give you 'that' look

They are known to have personal and long standing vendettas against water bottles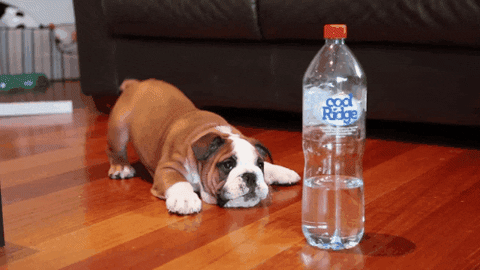 Baby Bulldog Pictures
Baby Bulldog Videos